Most people would guess that Jamaica's National Dish is Jerk Chicken.
But the truth is…it's Ackee and Salt Fish.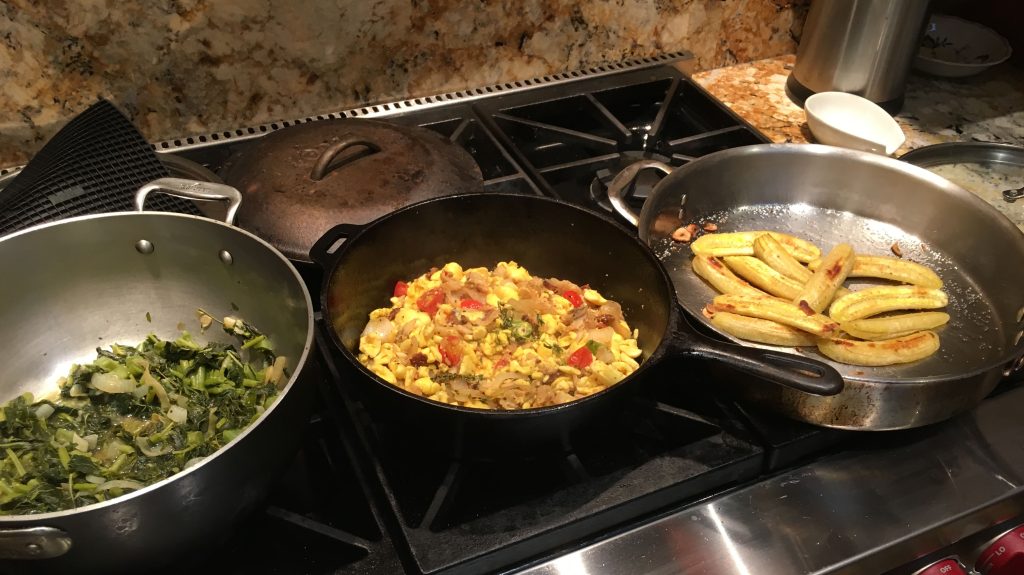 Ackee is the national fruit of Jamaica. It was brought to the island by the infamous Captain Blygh as food for the workers in the sugar cane fields. The appearance of the dish is somewhat like scrambled eggs, but there the resemblance ends. Although ackee is fairly bland in taste, the combination of the salt cod and unique Jamaican spices give it a flavorful and distinctive taste.
So it goes without saying that this is a must-have recipe if you want to cook like a Jamaican. It's a savory dish with lots of salty flavor and is so versatile you can eat it for breakfast, lunch or dinner!  It's great served with callaloo and fried green bananas (pictured above.)
Salted cod can now be found in most supermarkets. If you can't find it, try a West Indian grocer or Portuguese fish store. In cities with large Jamaican communities canned ackee is easy to find, or you can order it online at https://www.cannedackee.com.
We've provided a recipe below so you can try it at home, but the best way to sample this unique Jamaican dish is to stay in a Jamaican villa and have it prepared by a villa cook. They're bound to include a secret ingredient or two that never shows up in a recipe!
1 can ackee (or 2 cups cleaned fresh ackee), rinsed and drained
1/4 pound salt cod (or pollock)
3 strips thick-sliced bacon, cut in 1″ pieces
1 medium yellow onion, halved and sliced
1 scotch bonnet pepper (or habanero), seeded and quartered
2 sprigs fresh thyme
2 cloves garlic, minced
1 medium tomato (Romas work well), seeded and diced
1/4 cup green bell pepper, diced
2 scallions, in 1/2-inch slices
1/4 cup water
Black pepper, to taste
Bring 4 cups water to a boil. Pour over saltfish and let sit for 30 minutes. Rinse and pat the fish dry with paper towels. Tear fish into bite-sized pieces and set aside.
Cook bacon over medium-low heat until rendered. Add onions, bell pepper and scotch bonnet and cook, stirring frequently until softened, but not brown. Add thyme, and garlic and continue cooking two minutes longer. Add tomato and water and bring to a simmer. Add ackee and black pepper; stir gently to blend and simmer, covered for 10 minutes. Add more water if necessary. The ackee should be moist, but not dry. Remove thyme, and scotch bonnet if desired.
Taste for seasoning and add black pepper and salt if necessary. Serve hot with collards, Johnny cakes, boiled green bananas or bammy (Jamaican cassava cakes.)
Notes:
If using canned ackee; drain over a colander and rinse thoroughly. Set aside to drain until ready. If you are using fresh ackee, (and you should only do so if you are familiar with the preparation, as if not properly cleaned ackee can be toxic) clean the ackee by removing the black seed and the pinkish membrane inside the yellow, fleshy portion. Parboil the cleaned ackees for 5 minutes, drain and set aside.
Bon appetit!