Welcome!
We are excited to be announcing this latest addition to our website because it's a great way to share our unique experiences and knowledge about one of our favorite places on earth…Jamaica….and the joys of staying in a private, fully staffed Jamaican villa.
Our clients often tell us how nice it is to speak with real live people who actually know what they're talking about when it comes to booking a villa in Jamaica.  We know Jamaica like no one else!  And so the very first thing we'd like to do is introduce you to the SunVillas team.
Meet the team
We thought you might like to know who is behind all those emails and phone calls, so here we are.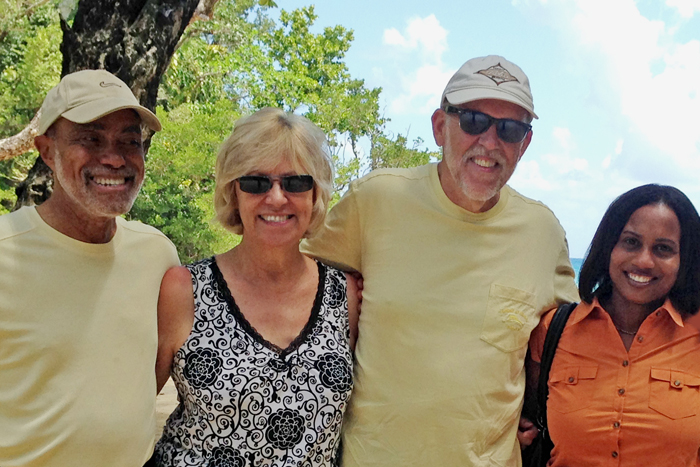 The SunVillas Team…Reg, Donna, Alan and Latoya
Owners Reg Irvine and Alan Marlor started SunVillas in the mid 1990's after spending a number of years vacationing in Jamaican villas.  Early on, they sensed that the uniqueness of a fully staffed Jamaican villa was not well known and that visitors to Jamaica were missing a wonderful travel experience.   Combining their marketing and technology expertise and thanks to the power of the newly developing internet, SunVillas was born.   Since that time their reputation in Jamaica is unexcelled. Reg was born and raised in Jamaica and between he and Alan, they personally know every villa and every villa owner/manager we represent.
Our full-time concierge, Latoya Soares, resides in Ocho Rios with her husband and two adorable 8-year old twin boys.  Latoya handles all the local details for your SunVillas vacation, including airport transfers, other ground transportation, meal planning, and tour accommodations for local trips and much more – basically whatever it takes to make your stay comfortable and memorable – and always with that beautiful smile of hers!
Villa Agent, Donna Kreutz works out of the SunVillas Fort Myers office and has known Reg and Alan since "way back" in their corporate days.  In fact, Donna and her husband were among some of the first SunVillas clients.  Donna looks forward to the team's regular island visits and her knowledge and love of Jamaica is evident in the personal attention she provides each and every client who is searching for the perfect Jamaican villa vacation.
Frequent team visits keep our knowledge of the villas, staffs and owners current to guarantee your Jamaican villa vacation is the best possible experience ever.
Next…
In future blogs we'll be addressing such subjects as "why a villa?", "how a villa experience compares to an all-inclusive resort"… we'll present featured villas, discuss some of the mouth-watering island cuisine, highlight some of Jamaica's famous residents and visitors, and now and then we will even be presenting a few factoids about Jamaica that you might not know yet, but we're pretty sure you'll be surprised and entertained.